Press photography and travel photography using the example of Morocco for FTI
Press photography with the marketing of the destination Morocco, FTI has invited the Destination Pro trip to Morocco with over 400 participants from all over Germany. I was allowed to accompany this special trip as a photographer from 15.03 – 19.03.2016. Both press photos, documentation of the trip and travel photography were the subjects I photographed as a photographer on my trip between Marrakech and Agadir.
In just a few days to experience the diversity of Morocco up close, in addition with a perfect organization of FTI and great excursions is already an experience.
My task was to document this Morocco trip in such a way that the images could be used in social media and could be used in sales pitches. The first images were also used immediately in the creation of offer flyers and in presentations.
I was on duty from 08.00 – 24.00 in the morning. At night the pictures were downloaded and a picture gallery for the press was sent to the PR team of FTI. In this way, selected images were available every day and could be used on a daily basis.
There was not always the time that a photographer wants, because I was also involved in the social program and joined various travel groups. A total of 10 coaches were in use, a brilliant performance also on the part of the organization team. With Meetingpoints as the local agency, experienced tour guides were again used on the part of FTI and I was very impressed, because here fluent German was spoken and a lot of knowledge about the country was imparted during the trips. Therefore, it is definitely worthwhile to book a tour guide or additional excursions on site via Meetingpoints.
Morocco is a year-round destination as a bridge to Europe, a country that offers Atlas Mountains, beaches on the Mediterranean and, Atlantic coast, as well as an imposing mountain world with green valleys. In addition, a year-round balanced climate and safety as a tourist destination.
By the way, FTI offers 8 round trips that can be done by rental car or bus. My personal choice, if I could, would certainly be the great Morocco round trip – 8 days Agadir combined with the 4 royal sites (Fez, Cassablanca, Meknes, Marrakech).
The royal city of Marrakech is certainly the top destination as a city break and truly a magical place. There are countless markets, gardens and palaces and much to discover in the winding streets. We had the option of a carriage ride and had another city tour the following day with an experienced guide.
Glowing sun in the sky in the morning and backlight – not exactly the optimal conditions for good photos. In addition, the challenge of staying with the group as well as recording impressions of Marrakech at times has not always been easy. I used polarizing filters from Heliopan to minimize annoying reflections as well.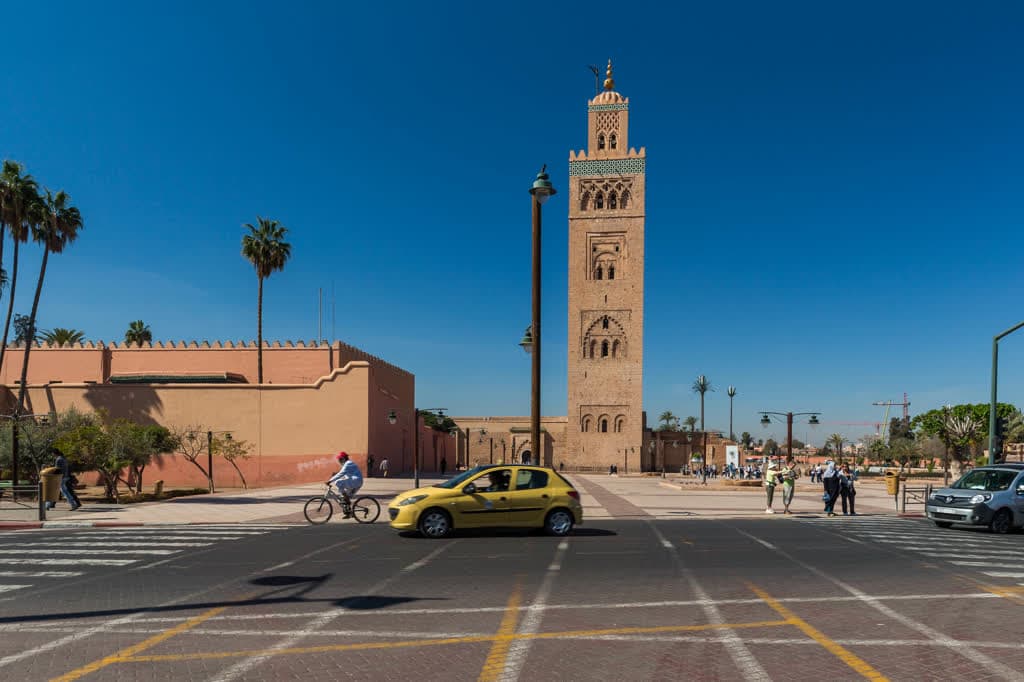 The souks in Marrakech are a dream! Here you really feel transported back to another world. Of course, there is also the best capucciono in Marrakech – unmistakable!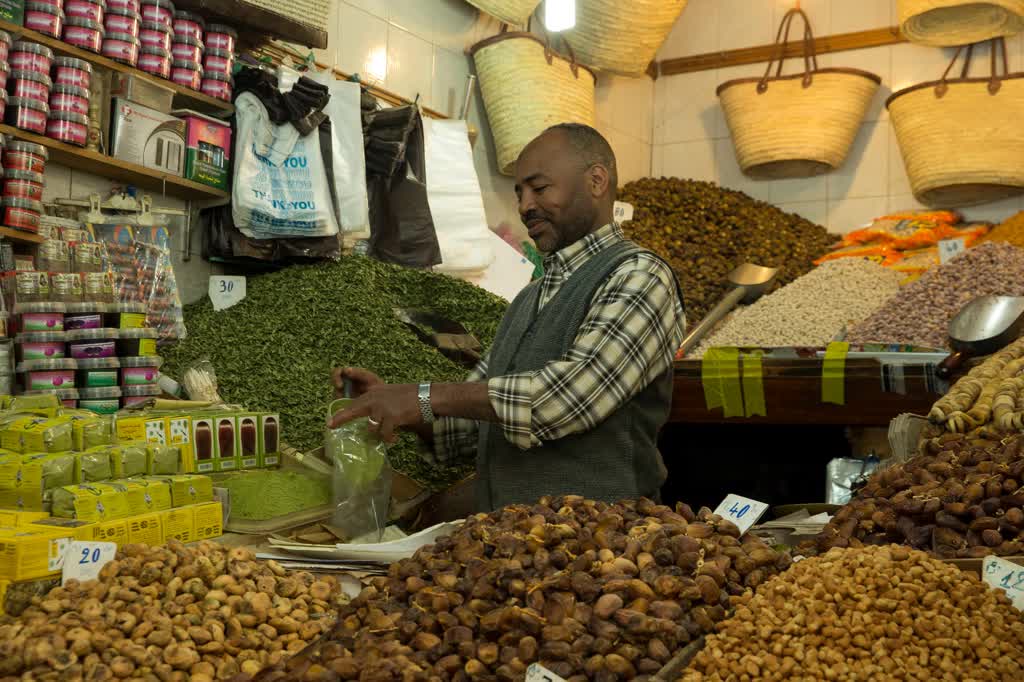 During the full-day excursion to Taroudant, which is often called Marrakech's little sister, I experienced an impressive landscape with old Berber villages and palm trees. We made a stop in the interior and I took the following picture, which was later requested by the press department:
I immediately rushed out of the bus, because there are at most 10 minutes left and I wanted to quickly create some landscape photos without people before the whole group was outside. When the picture was taken, I was of course asked by the PR department which village it would be. I hadn't made a note of the info, but was then able to provide the information I still wanted by checking with the Morocco tourist office. This picture is the 1000-year-old Agadir store Tasguent.
The day trip then ended in the evening with the re-arrival in Agadir at LABRANDA Les Dunes Dòr. There was little time, to be exact, only 20 minutes, because a new highlight of the trip was already waiting for us. A comprehensive FTI presentation was presented with the appropriate selling points for Morocco. The 4-star plus hotel LABRANDA Les Dunes Dòr has been completely renovated and offers spacious rooms, a main pool, aqua park for families and a private, shallow-sloping beach right on the doorstep. Certainly a top selling point is that children are included in the parents' tour price and this with "All Inclusive" services!
The next morning was actually the day at leisure until departure. I was then allowed to visit some hotel rooms and created various hotel pictures (exterior, rooms, beach, bar, restaurant), which were then also used in a sales flyer after only a few days.
Conclusion:
Morocco is more than worth a trip. As a salsa dancer, yes there is the famous World Salsa Congress in Marrakech at the end of August 2016. I gained some insights, and will certainly return more often.
MoroccoKorocks #FTImeetsMorocco