Press photography for FTI
A look behind the scenes at the subject of press photography FTI, which as a tour operator with the partner Eurowings from Cologne offer new flights to Oman.
I was already allowed to accompany some trips for FTI as a photographer (Morocco / Oman) and was therefore very pleased to implement a press theme photographically. I was with FTI in Oman, in Salalah, so now there was also a connection for me to this photo assignment.
My task was to capture the first flight at Cologne Airport with Eurowings.
Since October 1, FTI has been connecting a German departure airport with Salalah by charter flight for the first time. The bathing paradise in the south of Oman will be served twice a week with immediate effect by an Airbus A330-200 operated by Eurowings from Cologne/Bonn.
I was there early (3 hours before departure) , because also for security reasons the process of registration and handing out the forms took some time. For the shots at the gate and also outside on the tarmac, I specifically had three Canon Speedlites 600 EX-RT in use and portable softboxes from Firefly with me to be able to react quickly to all possible lighting conditions.
Pictures should be taken at the gate / check inn and also outside on the tarmac in front of the plane pictures with the responsible persons on the part of FTI and Eurowings.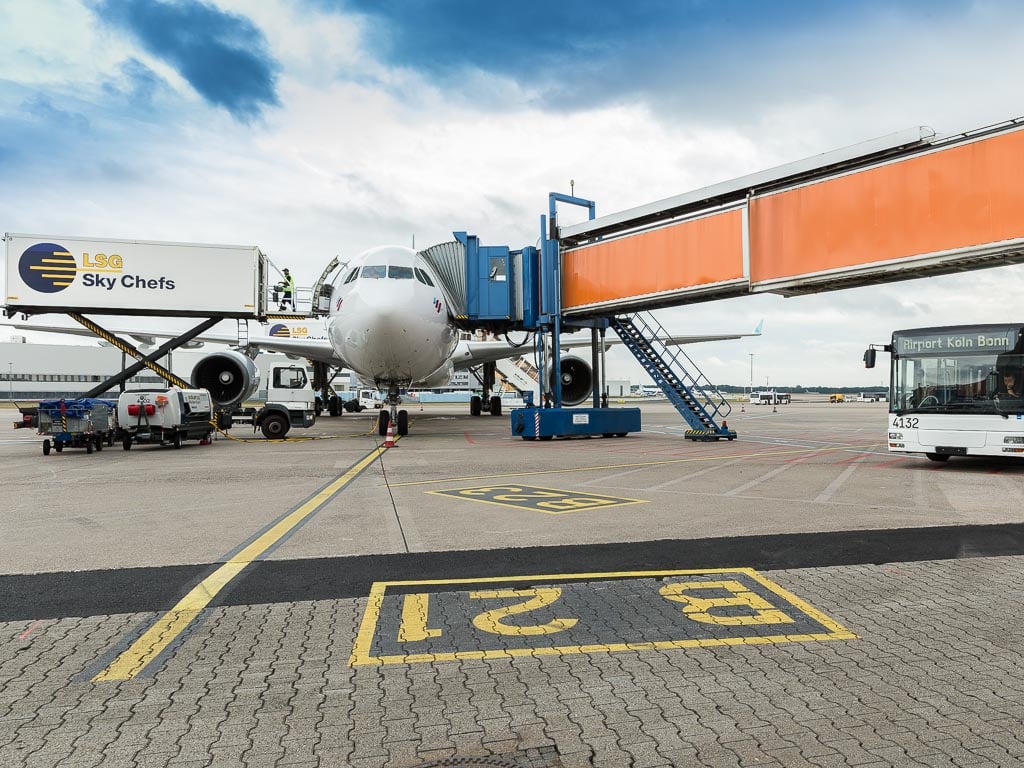 At the gate, oriental delicacies were served before departure and all guests were personally welcomed by Heike Hommelsheim on behalf of FTI. I was allowed to photograph for FTI several times and again everything was perfectly organized. The oriental food and cafe was served true to the original from my point of view, exactly as it is celebrated in Oman.
The challenge of the job for me was to have the required press motifs in the can in a short time and also to ensure good lighting. Just as the gate was filling up with guests and the food was also being served, I had to act quickly as a photographer, and also discussed with the hostesses which backgrounds were also suitable for a press photo at the gate.
Click here for the press release from FTI: (Munich, October 4, 2016)
From Cologne/Bonn non-stop to one of the most beautiful beaches on the Indian Ocean: Since October 1, 2016, the beach and bathing destination Salalah has been connected to North Rhine-Westphalia every Saturday and Wednesday by non-stop flight with Eurowings. 310 passengers were greeted ceremoniously at the gate by representatives of the airport, the airline and FTI for the fully booked first flight and invited to a small banquet. FTI Group Managing Director Dietmar Gunz comments: "The flight connection to Salalah sets new standards. Passengers from the Ruhr region and far beyond now have the opportunity to reach the Sultanate of Oman directly from Cologne/Bonn for the first time and to relax on the picture-book beaches of the Indian Ocean without any travel stress."
Nonstop to Salalah with three different flight classes to choose from After only about seven hours of flying time, your dream vacation awaits you in Salalah. "Over the last four years, we have helped develop a versatile program of luxury hotel accommodation, day tours as well as round trips in Salalah. This high-quality package is now taken into account by the shortest long-haul flight that can be offered for this purpose," Dietmar Gunz is pleased to say. The late afternoon departure time from Cologne ensures accessibility from numerous other departure points: feeder connections from Dresden, Hamburg, Berlin-Tegel and Munich, as well as abroad from Vienna, Zurich and London, are timed to match the long-haul flight so that there is hardly any waiting time. With a choice of three different flight classes, FTI and Eurowings also cater to individual customer wishes ranging from small budgets to high comfort requirements. Oliver Wagner, Managing Director of Eurowings, explains: "We are delighted about the cooperation with FTI. FTI guests get the best value for money with us. With Salalah, we are opening up an interesting new market for Eurowings." The flight can be booked exclusively via FTI as part of package tours.
Special Salalah Magalog for Travel Inspiration
For the Salalah season up to and including May 2017, FTI offers wanderlust addicts not only a general Oriental travel catalog but also a magalog tailored specifically to Salalah. The 50-seitige special edition summarizes the FTI offer in southern Oman from eleven luxuri?se hotels, three round journeys as well as numerous auxiliary packages magazine-like. As an additional source of information, small camera icons with a link indicate that a film is available online, so the brochure provides travel tips and inspiration via images, text and video.
Especially for diving fans, FTI also presents special packages in cooperation with Extra Divers Worldwide in the Magalog: Whether guided dives or exam courses – the SSI-certified school brings FTI guests closer to Salalah's rich underwater world of colorful corals, kelp forests, schools of fish, manta rays and turtles. "As an affordable alternative to the Maldives or the Seychelles, Salalah offers a great entry point for Indian Ocean vacations," sums up Sven Schikarsky. "A week is bookable including flight already starting from 566 euro per person in the double room with breakfast in a four star Superior hotel."
For more information and booking, visit www.fti.de, tel. 089/71045 1498 and at the travel agency.