comdirect Bank Annual Press Conference
On 31.01.2017 the balance sheet press conference of comdirect Bank took place at the Rowing Club Germania in Frankfurt and I was commissioned again to create press photos on site.
What is important in the area of press photos? What are the requirements for the photographer?
An important point is certainly the issue of speed, because after the press release, the first press images must already be put online. In addition, all images must be provided with IPTC data. Maintaining IPTC authorship metadata in the Copyright Notice field is recommended for rights holders such as photographers, graphic designers, or image and news agencies to prove their own authorship.IPTC data can be divided into four sections:
Contact details of the photographer, content of the photo, image description, creator information.
In any case, it is a complex issue and if there are different people in the picture, each picture must have different signatures. Further information on the subject of IPTC data can also be found here:http://www.pixafe.com/hilfe/iptc.htm#Bildrechte
I arrive early for the press conference, usually 1 1/2 hours beforehand. This leaves enough time to connect the laptop, test the WLAN connections and take the first test photos.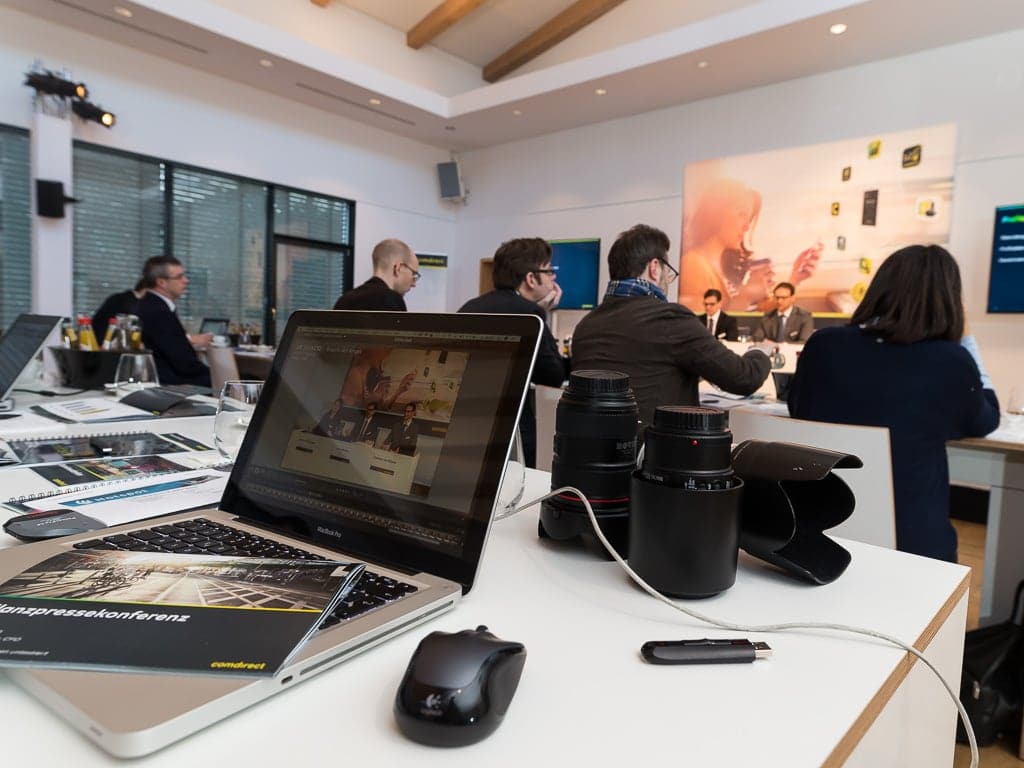 I shoot with up to three Canon Speedlite 600EX-RT flashes, which have an integrated wireless trigger and can also trigger so-called slave flash units from a distance of up to 30 meters. The advantage of this technique is that the flashes even trigger when you are positioned around the corner. In addition, from 15 available radio channels, the one that provides the best reception at the recording location is automatically selected.
Just as there is a sound check at every event, as a photographer I then also have the opportunity to carry out the technical "photographer's test" in advance.
At this press conference, Ms. Siragusano, Head of Corporate Communications at Comdirect Bank, asked me to send her some pictures in advance via AirDrop technology on her cell phone. Good that I also used Apple technology and thus an immediate transfer of the images was possible without any problems.
Here you can find my contact persons:
https://www.comdirect.de/cms/ueberuns/de/presse/pressekontakt.html
So the first photos were taken in advance, it was also important that the podium, set up and also shots of the CEO Mr. Arno Walter and Mr. Dietmar von Blücher, CFO of comdirect Bank AG were taken.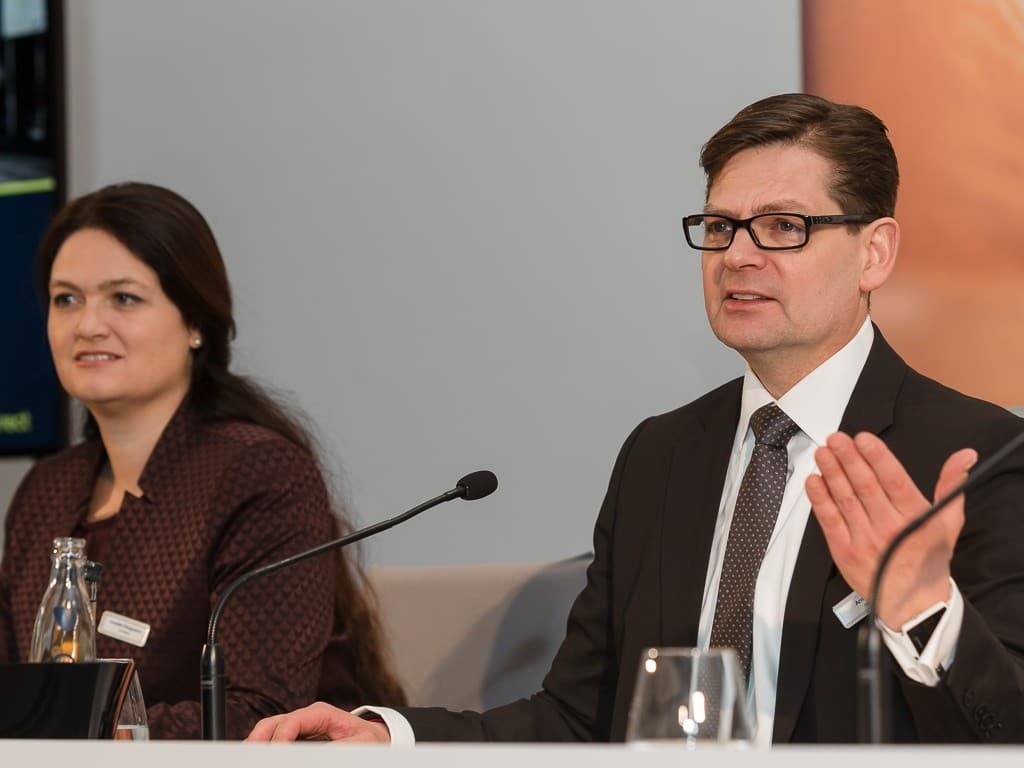 All pictures were edited by me on the spot. Color adjustment, sharpness and contrast adjustment, cropping of images (lens corrections, chromatic aberrations) are steps that not every photographer performs because the time pressure is enormous and very often speed is the most important focus. However, I have decided to always shoot the original images in RAW format, even in the editorial area. Then the images are compressed into JPG images on the laptop and laid out for the appropriate format (press / Internet).
The customer receives two formats from me, images for the press area (high resolution) and images that can be published immediately on the Internet. The delivery is done digitally as a cloud based gallery.
Within the gallery, Comdirect Bank can now immediately make a selective choice of press images. This is done, for example, by marking images with green. Journalists who get access to the press photos can then also publish versatile images that have been released in advance.
comdirect Bank also receives a large number of images, which can then also be used in a variety of ways for different purposes, be it for Twitter, Facebook or its own website.
Here is an example of how one of the images was used in Twitter by Ms. Siragusano – with the note: Securities provide answer to zero interest rate environment.
https://twitter.com/AnSiragusano
With Mrs. Ulrike Hamer the "most important photos" were then selected after the press conference, which were then immediately sent by WLAN to colleagues of the press department for further distribution.
The comdirect group closed the 2016 financial year with a pre-tax profit of €120.7 million, significantly above the high figure of the previous year (€90.6 million)
With a pre-tax return on equity of 21.4 percent, comdirect is one of the most profitable banks in Germany.With an increase in the number of customers in both business areas (B2C and B2B) and a significant increase in customer assets, the comdirect group has further consolidated its position as one of the leading direct banks in Germany. The total number of customers climbed to 3.117 million in 2016, an increase of 127 thousand. The number of deposits increased by 81 thousand to 1.867 million. Customer assets under management increased by 10.3 billion to a record 75.7 billion euros. Net inflows in the Group totaled 8.4 billion euros, of which 5.9 billion euros went into deposits.