Food photography for an agency in collaboration with Kreativ Catering, who had also developed the food concept for the event: "Life is beautiful" – a world full of acrobatics, pleasure, music & illusion.
The show combines first-class vaudeville, multi-themed live music acts, magical projections and water illusions, and culinary delights to create a four-hour program followed by an after-show party.
On four stages, the audience experiences the wonders and beauties of the world, sometimes tense-attempting, sometimes sentimental-poetic, then again exuberant-euphoric.
This event series also includes a gourmet menu, which I was allowed to photograph. All dishes, whether classic, vegetarian or vegan, are harmoniously coordinated and were developed by my long-time client Kreativ Catering, for whom I was also allowed to create both food photos and images for the website in recent years.
The food is served in a sophisticated ambience of the Fredenhagenhalle Offenbach (near Frankfurt am Main) and the latest technical innovations such as LED walls, revolving stages, an impressive water screen are also used. Outstanding musicians and artists complement the event for Advent 2016. "Life is Beautiful" supports the German Children's Rheumatism Foundation, which is represented by ambassadors Rosi Mittermaier and Christian Neureuther.
Food photography – photos for gastronomic perfection
The team of Kreativ Catering & Events provides culinary delights and gastronomic perfection at star level. After twelve years of continuous development work, the Kelkheim catering professionals are among the most successful event and trade fair caterers in Germany, not least because, despite their size, they always impress with creative and individual customized work. The culinary highlights are provided by the team around chef Vincenzo Neri.
It was therefore a particular pleasure for me to once again implement a theme in the food sector with Kreativ Catering and to see how all the food images were used in an overall concept by the agency Circle8 Event GmbH.
Food photography menu
My task as a photographer was to photograph a three course meal , a few bottles of wine and whiskey served to the guests that evening. The food photos should be used for both the menu and the event's website. As always, the goal was to photograph the dishes authentically, so that the guest gets a taste of how the food is served already on the website.
On location at the shoot, the shots on set were judged both by the client personally, Mrs. Regina Lohr, the chef Vincenzo Neri, and the managing director Mrs. Christina Herold of Kreativ Catering, pictured here.
Since the images were immediately transferred to my laptop, it was possible to determine on set which shots would be used later and in which format.
Guests will be served a regional appetizer ensemble of Taunus trout, beet, parsnip, nutmeg squash, cranberry and almond milk. The appetizer is also available as a vegetarian/vegan alternative.
Then the team serves American Blackrip Beef with saffron polenta and root vegetables. Alternatively, there is a vegetarian/vegan alternative to choose from, which can be selected when making a reservation. Here are a few pictures from the shoot: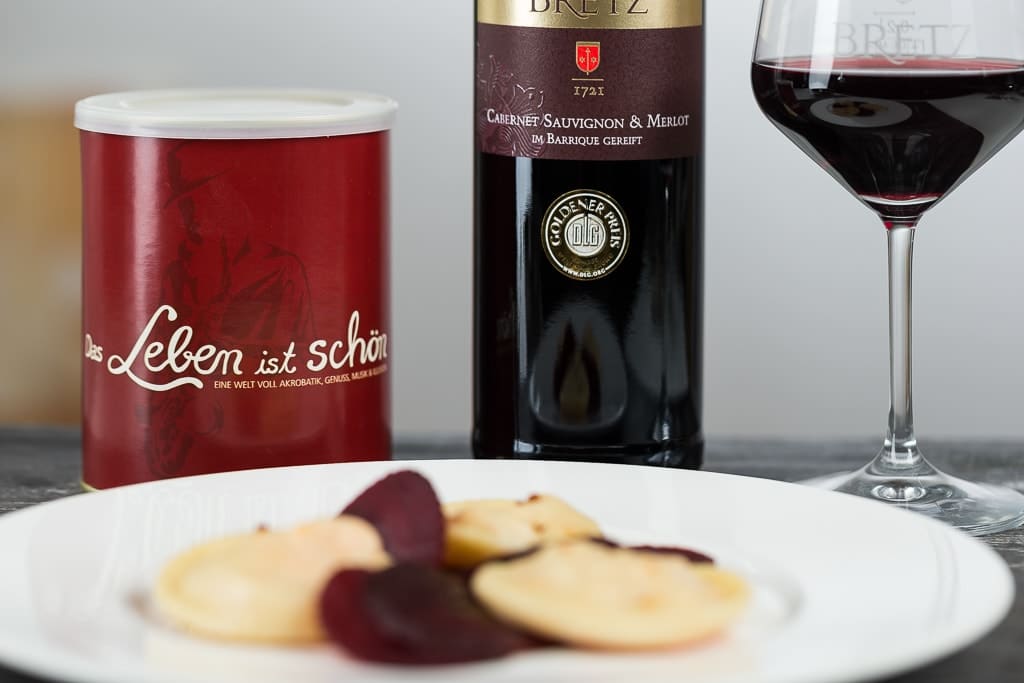 The full menu and other highlights of the event can be found here: