Trade fair photography Singapore
Trade show photography at the IMEX trade show in Frankfurt, the BT-MICE sector also represents an important role for Singapore in terms of tourism revenue. At this year's IMEX 2016 in Frankfurt, I was commissioned by the Singapore Tourism Board (STB) to photographically accompany the MICE appearance of Singapore.
Singapore is becoming increasingly popular with both German leisure travelers and business travelers. A new bonus program for meeting and incentive groups from Europe and America was presented at IMEX. Inspire Europe is aimed at groups of 20 or more with a minimum three-night stay in Singapore traveling between April 19, 2016 and December 31, 2017.
While holidaymakers particularly appreciate the wide range of leisure activities on offer in the Lion City, business travelers are particularly attracted by Singapore's strategically excellent location and its extensive MICE offerings. According to the Global Business Travel Association, international travel is forecast to grow by 3.1 to 5.5 percent in the five largest markets of Germany, the United Kingdom, France, Spain and Italy.
Twelve free services are available to groups in Singapore. This includes cocktail evenings at six of Singapore's best bars, as well as six guided tours on a variety of topics that explore Singapore's culture, zeitgeist and society.
Partners in the initiative are Singpore Airlines and Changi Airport Group.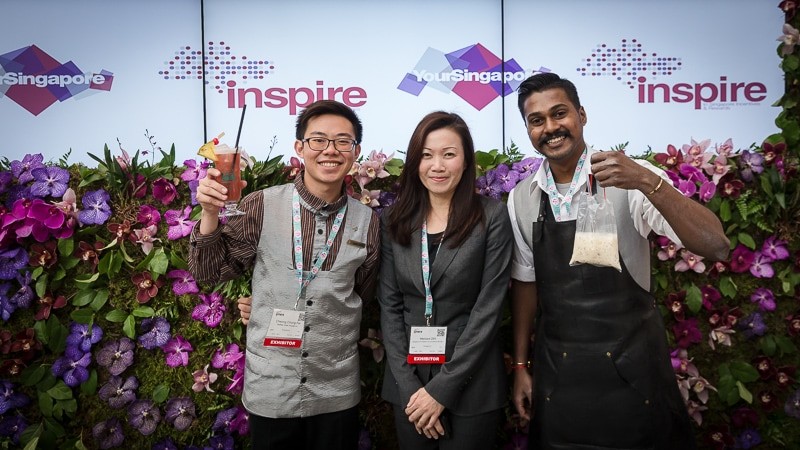 If you are planning a conference or are interested in the INSPIRE program then you can also send an email to: stob_inspire_europe@stb.gov.sg. More impressions of the Singapore booth at IMEX can be found here: