Frankfurt Coffee Festival 2021
Event photography in the field of coffee and indulgence is a challenge for us photographers. In a confined space among many people, the world of coffee was celebrated with all senses in the Union Halle in Frankfurt.
Being a coffee lover myself and being my own barista with my "La Pavoni" and a Eureka grinder, it was clear that I also wanted to take this opportunity to experience the cafe scene live.
In addition, I was able to get to know brands such as Backyard Coffee, Hoppenworth & Ploch, Gorilla Kaffe and test various varieties on site to determine my personal favorite.
The first Coffee Festival in Frankfurt was organized by Patrice Wiedemann, who perfectly staged the festival and the industry get-together and is also a member of the board of the Spcialty Coffee Association, the trade association of premium coffee roasters.
Coffee is luxury goods
At the festival, professional enthusiasts from the coffee industry also exchanged ideas with a large audience, sharing their enthusiasm for coffee. Coffee is a luxury commodity and more and more large manufacturers are now mingling with the small premium roasters,
The festival received a lot of attention and the crowd of visitors was large. On stage, master roasters were judged by a jury and the title of German Barista Champion was also determined.
Filter Café means Pour-Over Coffee
Filter Café, by the way, is now called Pour-Over Coffee, as I learned, and the willingness to spend money on coffee and the corresponding machines is still there. Meanwhile, many bean fans also talk about the third wave. First it was mass production, then came variations such as lattes, espresso types and now it's all about the special treat, which also costs accordingly. The kilo cafe ranges from 27 to 60 euros and even higher prices are quite possible.
The corporations have also discovered the coffee market and were on site. Melitta had its filters tested by pour-over experts in the center of the hall. Water filter suppliers such as Brita and BWT were also on site.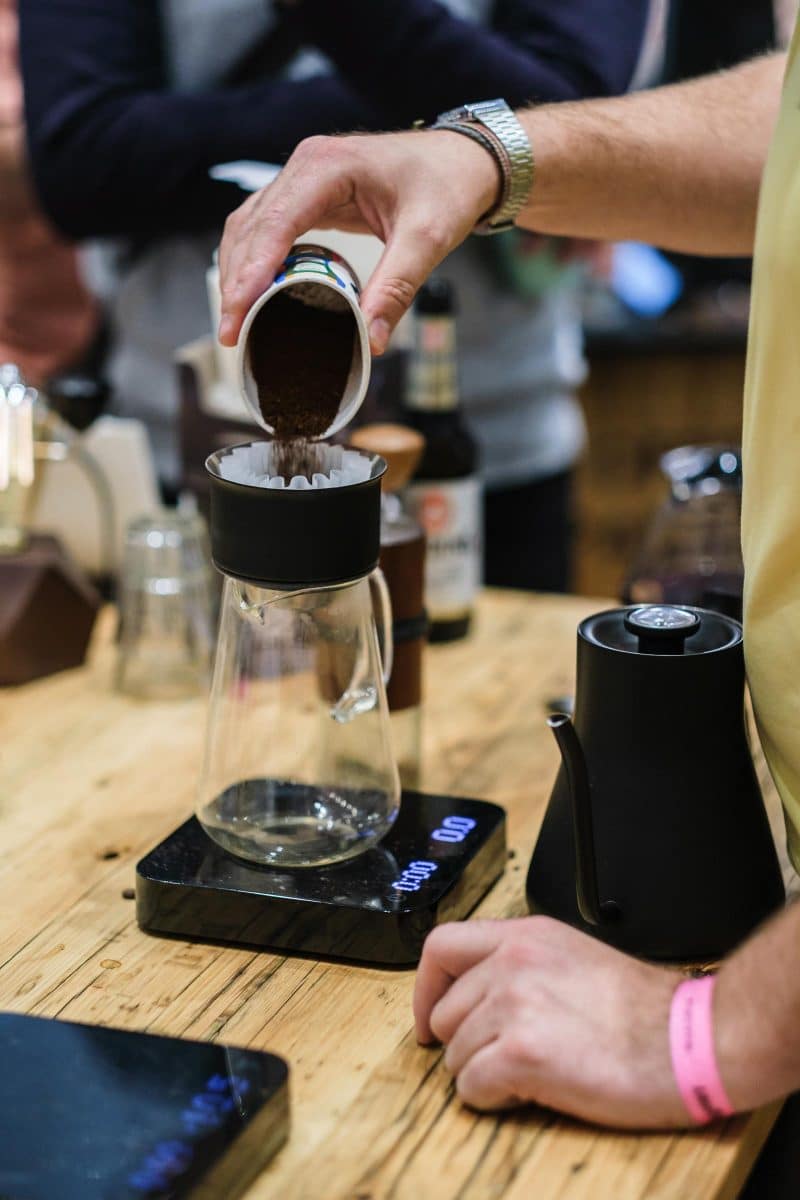 Filter coffee is experiencing a revival
Today, filter coffee is moving at a high level. The different flavors and qualities that you can get out of a filter coffee today are very diverse. The perfect coffee preparation has long since become a science, as here the degree of extraction is controlled with special measuring devices and the amount of water per serving is weighed out in tenths of a gram. So making coffee requires a desire for math and statistics.
Lavazza promotes premium varieties
The major Italian manufacturer Lavazza had also set up its own bar. Three new premium varieties were promoted and a small barista guide was also created. What is also interesting for me as a private consumer is the fact that barista courses are also offered at Lavazza's German headquarters in the Pollux high-rise.
https://www.lavazza.de/de/uber-uns/training-center.html
Mayola coffee from my old home Hattingen
When I took a look at the exhibitor list was from the Coffee Festival I discovered Mayola Coffee and got on the phone with Olaf Scherff, the founder. At the trade fair, he explained to me his success story, how he managed as a founder to be listed by REWE, among others.
Fair – Sustainable and Long-Term Roasted is its slogan for success.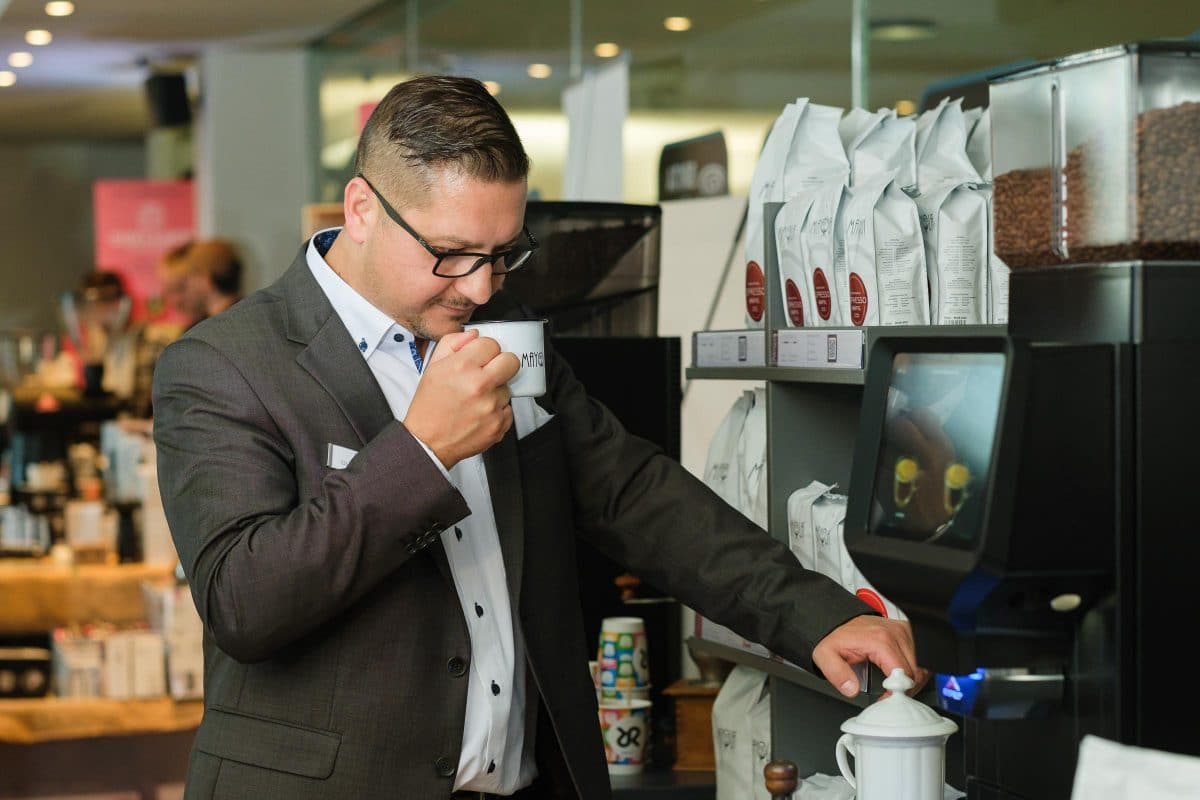 https://www.youtube.com/watch?v=GIgQhSnWMR8
Cofi Loco
Uwe Prommer and his team are also crazy about coffee, and he had the fantastic idea of bottling and maturing the coffee directly after roasting. This was the first step of the mission "Zero Waste" and I also visited him at the booth and looked at the most different bottles and also find his concept with the aroma protection lid very successful.
Coffee enjoyment and sustainability
Consumers want not only to enjoy, but also to support farmers. This is why organic, fair trade and project coffees are also in particularly high demand. Sustainable coffee improves the living conditions of farmers in the countries where it is grown and contributes to environmental protection in the cultivation of coffee beans.
The most important coffee seals
Organic seal
The most widespread is the governmental, hexagonal organic seal. It guarantees that 95 percent of the coffee is organic and farms are managed in accordance with the EC Organic Regulation. Among other things, synthetic sprays are taboo. Organic farming associations such as Naturland or Bioland have their own seals and even stricter organic standards.
Fairtrade (Fair Trade)
The Fairtrade / Transfair seal or Lidle's own Fairglobe brand stands for fair wages for farmers in the Third World. Currently, farmers receive at least $1.25 per pound of Arabica. More than 60 percent of fair trade coffee today is also organic. Together, they have a market share of 3.5 percent.
Rainforest Alliance
The symbol for Rainforest Alliance is the frog and the nature conservation organization from the USA is primarily committed to the preservation of ecosystems such as the rainforest. It does not pay minimum wages to coffee farmers, but it shows them how to compete on the world market. Coffee with the frog seal is available in Mc Cafes (MacDonald`s) from Kraft Foods and Tchibo. Tchibo says at least 30 percent of its beans are certified, while Kraft Foods says up to 100 percent are.
4C Initiative (Common Code for the Coffee Community)
The Common Code for the Coffee Community is a basic standard for sustainable coffee cultivation developed by the industry and the Society for Technical Cooperation.
4C coffee is hardly recognizable: There is no seal, and there is rarely anything on the package. A list of members is available on the Internet:
It all depends on the beans
The decisive factor in how good the coffee tastes is the bean. So my tip, go to a vendor that roasts their own or sources from a small roastery. Here in Frankfurt there are three places that are well known and there you can get coffee brewed according to all the rules of art, such as at Kaffeewerk Espressionist, Hoppenworth & Ploch or Aniis.
Coffee plant Espressionist
I have the great advantage that here in Frankfurt Bockenheim, where I am also based as a business photographer, I have the largest filter coffee shop right outside my door. Here everyone will find it is a perfect place for all those who want to escape for a short time from the hustle and bustle of everyday life.
http://www.kaffeewerk-espressionist.de/leipziger-strasse-frankfurt/
Hoppenworth & Ploch
The Frankfurt-based coffee roasting company Hoppenworth & Ploch stands for the highest coffee quality and sustainability throughout the entire coffee value chain. In the meantime, Hoppenworth & Ploch roasts for customers all over Germany, but remains connected to its founding location in Frankfurt am Main with three cafés and close ties to the local gastronomy scene.
The alternative to anonymous trade of coffee through the stock exchange is fair, direct trade of coffee. Therefore, the company buys all its coffees directly from the farmers.
https://www.roastmarket.de/marke/hoppenworth-ploch.html
Aniis
Aniis means "good friend, "faithful companion" and comes from Arabic. The room for coffee culture is located in Hanauer Landstr. 82 to be found in Frankfurt. There you can also buy specialty coffees purchased directly from cooperatives in the country of origin.
Coffee is the Hessen`s favorite drink and here in the video created by Hessischer Rundfunkt you can see once again a small summary of the first Frankfurt Coffee Festival.
https://www.hessenschau.de/tv-sendung/coffee-festival-in-frankfurt,video-160166.html